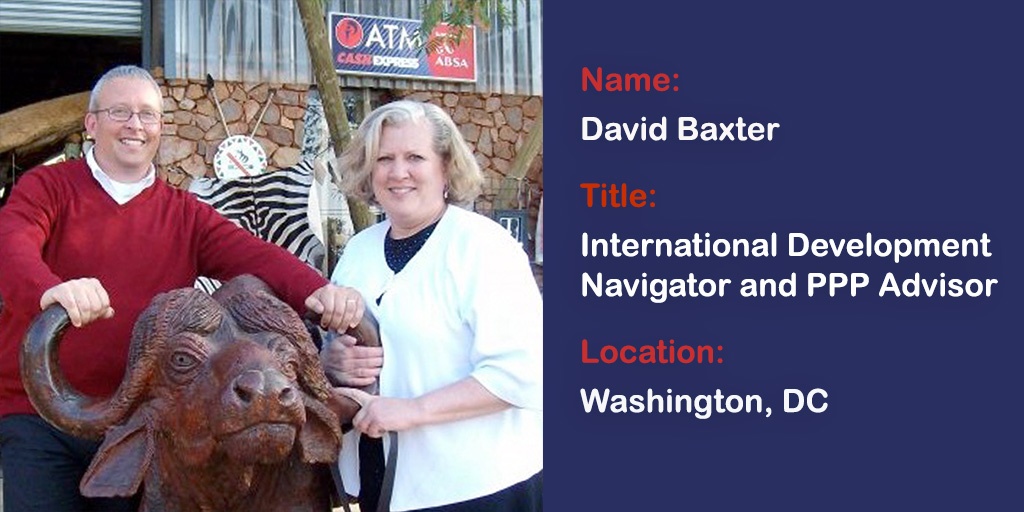 Editor's Note: 
Welcome to the "10 Candid Career Questions" series, introducing you to the infrastructure and PPP professionals who do the deals, analyze the data, and strategize on the next big thing. Each of them followed a different path into infra and/or PPP practice, and this series offers an inside look at their backgrounds, motivations, and choices. Each blogger receives the same 10 questions that tell their career story candidly and without jargon. We hope you will be surprised and inspired.
1. What was your first job?
My first job was as a geography and history teacher at Camp's Bay High School in Cape Town, South Africa. It was a very interesting time to be a teacher in South Africa as this was the time that schools were being desegregated immediately after the end of apartheid in the early 1990s. It was a time of great learning for all South Africans: learning how to get to know other cultures, how to overcome the prejudices resulting from apartheid, and learning how to create a new society that offered political and economic freedom to all of its citizens.
2. What was your best job? 
Although I have enjoyed all of my jobs, the most challenging and exciting one was when I worked at the historically black University of the North (now Limpopo University) in South Africa. The university was transitioning from a historically segregated black university to an open university under the new post-apartheid government. It was a great time to be a professor there and I had the chance to meet Nelson Mandela a number of times. I taught development economics and post-apartheid reconstruction and development programs. It was also the first time I experienced working with international donors, which included the French Government, USAID, and the World Health Organization. Many of the programs also focused on building strong partnerships between the government and public sectors, which was my entry into Public-Private Partnerships (PPPs). It was also a privilege to educate the youth who would become the leaders of a new multiracial South Africa.
3. What do your family members think you do all day at work? 
My wife and I have no children, but my wife is my greatest cheerleader. She is a teacher and has worked with many refugee students from Bosnia-Herzegovina, Somalia, and Myanmar. She understands what the direct adverse impacts can be on the inhabitants of a country when the economic and political situations become dire. She thus thinks what I do on a daily basis is great, and she does not hesitate to ask me questions about what I am doing in places as diverse as Myanmar, Kenya, and Saudi Arabia. Unfortunately, because I spend most of my time in other countries, she does not get to see me at work, as I do not have a typical workday.
4. What do you really do all day at work? 
Much of my time is spent on international travel, PPP policy consulting and advising governments how to make a compelling argument for why the private sector should be interested in PPPs in their countries. I am also a senior advisor to a number of institutions that include the UNECE PPP Center of Excellence for Smart and Sustainable Cities in Barcelona, and the International Public Private Partnerships in Resilience Center (IPPPRC). These organizations offer me the opportunity to take part in meaningful thought leadership debates and to learn a lot from PPP peers all over the world.
5. What do you wish you did all day at work? 
I wish I could work more on a daily basis as a hands-on PPP project technical advisor for utilities that are focused on renewable energy and water and sanitation projects that have the potential to improve the economic and health prospects of at-risk communities in emerging economies.
6. What is your go-to industry website? 
I enjoy visiting PPP websites at the World Bank, as well as the Public-Private Infrastructure Advisory Facility (PPIAF), the UNECE PPP Centre of Excellence, the Inter-American Development Bank, the Asian Development Bank, and the OECD. I particularly enjoy websites that advance data, tools, and advice on PPP practices.
7. What did the book that made the biggest impact on you professionally teach you? 
My favorite book is the Power of One written by Bryce Courtenay, which is about a young white boy growing up in apartheid South Africa in the 1960s. It is a very poignant book for me as the story parallels the experiences I had growing up in South Africa. It also points out that no matter how young (or old) we are, we should have a social conscience that is focused on the power we have to be fundamentally moral and good people.
8. What are you shocked to hear yourself say when you give advice to young professionals?  
I tell them that learning never stops. I am shocked to acknowledge this as we inherently often think we know everything, which is not realistic. It is also important to acknowledge that even our younger peers have compelling experiences we can learn from.
9. What is the most rewarding thing you have experienced in the course of your Infrastructure and PPP practice? 
There are many, but these are the most important:
There are no shortcuts and sometimes PPPs are not the best option.
Mistakes will be made, but mistakes are often the source of best practices that advance the implementation of PPPs.
10. In what ways do you think the Infrastructure and PPP area you work in will look different in 10 years? 
I believe that introducing innovation will become more and more important, especially when it comes to new emerging technologies and financial models that will evolve to serve the needs of cash-strapped governments, not only in the infrastructure arena, but also in the area of critical social services, such as education and healthcare.